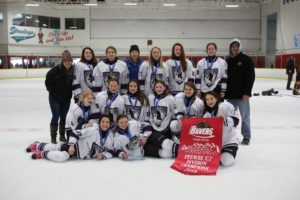 The Richmond Ravens are hosting an all-girls hockey tournament this year, The Richmond Ice Classic, from March 29th – March 31st, 2019. This is the 22nd year of the tournament and it is the largest minor all-girls hockey tournament in Western North America.
The tournament is absolutely awesome and the girls have a wonderful time. This is truly one of the best run tournaments we have ever attended.
Current Teams:
6U – Mitey Mite (2012 and younger)
8U – Mite (2010 and 2011)
10U – Squirt (2008-2009 birth years)
12U – Peewee (2006-2007birth years)
14U – Bantam (2004-2005 birth years)
19U – Midget (2003 and older)
If you are interested in attending the tournament please register below or email jobrien <at> girlshockeyclub.org if you have any questions. We want to help as many girls attend this tournament that we can (regardless of skill level). Our current teams are regional and include girls from Washington, Oregon, and Idaho. Our focus is to support the growth of girls hockey regardless of association.
Girls from all associations can register for the Richmond Ice Classic Below. The participation Fee is $1.00 and team jerseys are required. We will represent each girls home association on each jersey to support the growth of girls hockey at all associations!
Register for the Richmond Ice Classic 2019
This year our sponsor association is Seattle Junior Hockey. Big thanks to Seattle Junior! Home of the Lady Addies 12U & 14U.